Parents who are looking for portable and mini cribs for their baby and are not finding the right one which can provide safe and comfortable sleep to their kid, this is the article to check out. Here we have discussed 5 best portable and mini cribs which will satisfy all your needs and you will surely end your search here.
No wonder all the below mini cribs are safe and comfortable and are designed keeping in mind everything about kids. So, it's just you have to select the one that pleases you more and satisfy all your needs.
5 Best Portable And Mini Cribs
Delta Children Portable Mini Cribs, White
This crib from Delta Children is lightweight and is easy to fold. Its versatile and stylish design makes it a great crib for your baby and you will surely get impressed with it having no reason not to buy it. It is a multi-purpose crib and its strong wood construction makes it just perfect for your baby.
If you are worried about the safety of your baby in this superb crib then you can leave all your worries aside as it is JPMA certified giving you no reason to worry about. To buy this portable and mini crib from amazon you check out here.
Dream On Me 3 in 1 Aden Convertible Mini Crib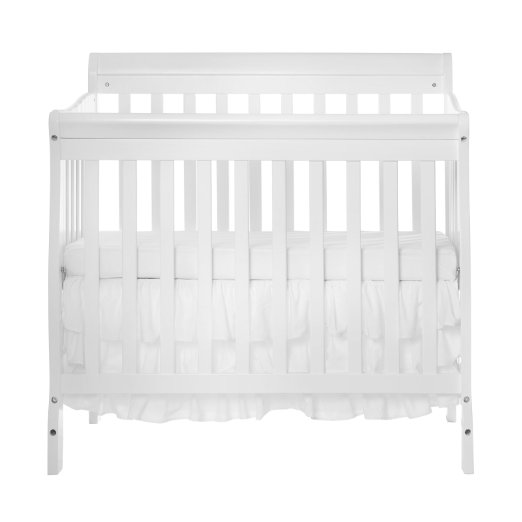 Talking about this great crib, it is a crib that converts into a daybed and twin size bed. You get all the tools for assembling along with the crib. The weight of this crib is 40lbs and thus you do not find it too hard to move the crib from one place to another if needed.
It is a 3 position mattress support system and is a solid pine wood finish product which will not just provide your baby a comfortable sleep but will also enhance the look of the baby room. There is no reason not to buy this mini crib but yes for sure you can check out other options too before buying. To know more about the product or even to buy it online, click here.
Dream On Me 2 in 1 Portable Folding Stationary Side Crib, Espressco
If you are looking for a portable crib which is fully safe and folds flat for easy to carry, dream on me 2in 1 portable folding stationary side crib is just for you. No doubt it is made of solid pine and its finishing is just matchless.
You will find its stationary rail design just the one you are looking for in a crib for your baby. US patented rail system of this superb crib is just matchless and will make you go for this crib without any delay. Check out for more information on this crib or you can even buy it online.
Graco Travel Lite Crib With Stages, Manor
If you are looking for easy to carry crib which is foldable and light weight then this is the crib for you to go with. Its height adjusting feature makes it one of its kind and you can easily convert this portable crib into a playard which is the feature which you don't get in most of the other cribs.
Its weight is less than 20 pounds and you can easily carry it with you wherever you want. There are many parents who want to keep their sleeping babies closer longer. This is a perfect crib for those parents and they can without any doubt go for it for their baby. Visit here and learn more about graco travel lite crib with stages, manor.
Compact Folding Metal Crib Finish: Chocolate
This L.A. baby's portable and mini folding metal crib is available in many other colors too apart from chocolate. Its durable nontoxic powder coating gives great finish and you can clean it without any problem.
It comes in fully assembled condition but yes you have the option to fold it into small so that you can store it conveniently. It's a simple yet attractive crib which provides comfort and safety both at the same time to your baby. Know more about this great crib by checking out here and you will surely want to order it for your baby.