Raksha Bandhan is a festival associated with brother sister relation and love on earth. The relationship between brother and sister is divine and words are less to express it. It is a festival that showers loves and blessings on both brothers and sisters and they wait for this festival for the whole year in order to show their love and affection towards each other.
Preparations for this festival is done well in advance by both brothers and sisters. Sisters shop for special, attractive and unique Rakhis for their bothers whereas brothers shop for amazing and useful gifts for their especial and loving sisters. Looking and shopping for Rakhis is not at all an easy task. With so many choices it is really hard to choose the best one for your brother and if you are looking for a kids Rakhi then the task becomes even more difficult.
Shopping for kids Rakhi can be made easy by checking out for them online. There are so many attractive and unique designs of kids Rakhi available today on internet that you can check out for them, compare them and then choose the best sitting at home and then ofcourse get them delivered either to your bother or to your door step as required.
Below Are Few Exquisite Rakhi For Kids For You To Check Out:
Rakhi For Kids Brother Bhaiya Rakhee Bracelet On Raksha Bandhan – Doremon cartoon design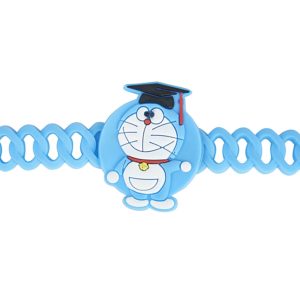 Bracelet Rakhi of Doremon cartoon design is surely attractive and will win your younger brother heart. He will feel proud and out of this world getting this unique bracelet Rakhi from his sister on this Raksha Bandhan.
Exclusive for Kids "Ben 10" Cartoon Rakhi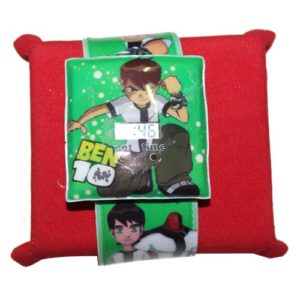 Exclusive Ben 10 Rakhi for kids is a great Rakhi idea and a perfect one to shop for, for your younger brothers.
Rakhi that will win every kids heart.
RIANZ All New Birthday Return Gifts For Kids Assorted Cartoon Characters Led Light Bracelets with Bikaji Soan Papdi kids Rakhi
Led light bracelet Rakhi for kids to have fun and enjoy on this Raksha Bandhan.
Creativity Creations Rakshabandhan Favourable Kids Cartoon Rakhi
Unique and different Rakhi for your little brother this Raksha Bandhan.
Rakhi For Kids Brother Bhaiya On Raksha Bandhan Bracelet Gifting Accessory Traditional Design Rakhee children
Rakhi for kids with their favorite cartoon character Chota Bheem to cherish them on this Raksha Bandhan.
Kids Cartoon Rakhi Stone Rakhi
Rakhi for kids. Perfect one to grab and send it to your little younger brother.
Doremon Cartoon Kids Rakhi with Laxmi Ganesh Coin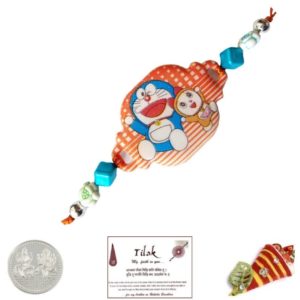 This doremon cartoon character kids Rakhi will surely bring smile on your brothers face and will fill their festival with joy and happiness. This Rakhi comes with silver plated coin, handmade paper Rakhi card and also Roli Tikka
Exquisite Doraemon Kids Rakhi for Raksha Bandhan Silver Ben 10 Belt
This Doremon kids Rakhi with silver ben 10 belt is a perfect Rakhi for cartoon loving kids. Send this Rakhi to your little brothers and make them happy this Raksha Bandhan
Kids Rakhi with Laxmi Ganesh Coin
This super cool kids Rakhi comes with Laxmi Ganesh coin and is a perfect one to shop for this Raksha Bandhan for your little brothers.
Kids Rakhi Bundle of 2 – Angry Bird Combo Rakhi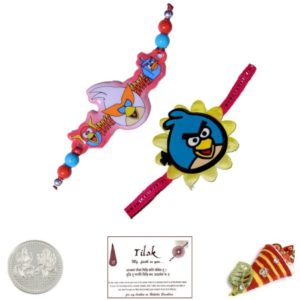 Angry bird combo Rakhi of 2 is a superb Rakhi set to send to your younger brothers on this Raksha Bandhan. Silver plated coin and Roli Tikka along with this set makes the whole set complete for you and a perfect one to shop for.
Ganesha with Guitar Rakhi Pack – Kids Rakhi – Indian Festival Raksha Bandhan
This special Rakhi set contains playful Ganesh design Rakhi along with one small M&M fun pack and a card conveying your warm wishes to your little brother.
Elegant Family Rakhi Set – Bhaiya Bhabhi Rakhi + 2 Kids Rakhi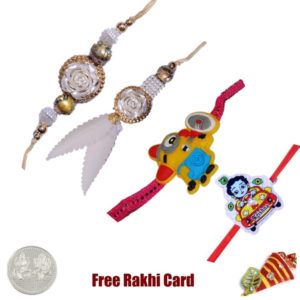 This is a special rakhi set that contains total of 4 Rakhi. One pair of bhiaya and bhabhi Rakhi along with two kids rakhi makes this set unique and a complete one. Laxmi Ganesh coin, Roli Tikka and a Rakhi card will fill your loved ones with joy and they will surely appreciate your choice.
Krishna Hanuman Kids Rakhi with Laxmi Ganesh Coin
Krishna Hanuman kids Rakhi is a super cool Rakhi and will make your little younger brother fill with joy wearing it on his wrist.
Exquisite Kids Cartoon Rakhi for Raksha Bandhan Dark Pink Thread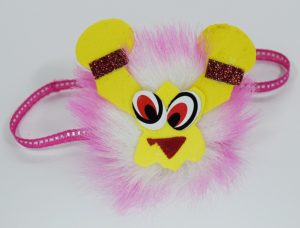 This unique cartoon Rakhi with dark pink thread will surely attract your eyes and will force you to go for it without any doubt.